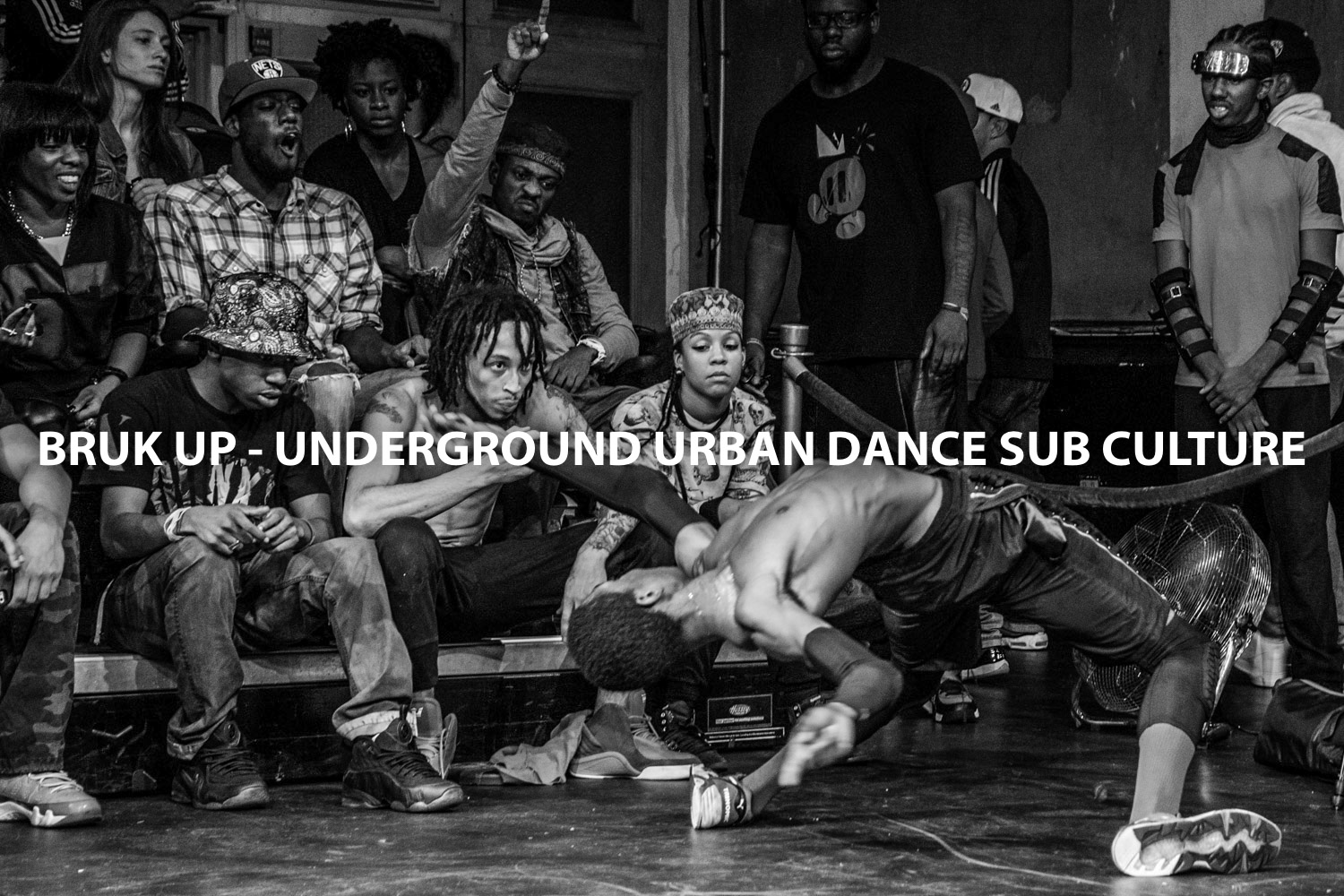 Skillful young dancers compete at a dance event in the Bedstuy area of Brooklyn. The dance events give young people the opportunity to compete against each other, make friends and settle differences in a positive environment rather than violence.
Pop Zombie (left rear) and Fatboy (right front) play streetball with friends in Bedstuy, Brooklyn.
Leila and Rain prepare food for a battle event at the Slaughterhouse. The Slaughterhouse is the name given to the house where youth from all over New York City and New Jersey meet to dance Bruk Up.
"Friends of mine constantly come to me saying how bruk-up saved their life", says Poba. "Giving young people a positive outlet can have a big impact on their lives." Poba was stabbed in the head at the age of 15 in 1996 by a rival gang in Bedstuy, Brooklyn. His grandmother moved down South, away from New York City for him to finish high school. Poba returned home to New York City in 2001. The tatoo on Poba's right arm means a lot to him. It signifies membership of the Bed Stuy Veteran's dance group.
Young men gather before the dance battle.
People congregate outside the Slaughterhouse before a dance battle event. Fatboy (white vest and flip flops) was born and raised in this Brownstone building. With rents rising rapidly and the price of property meaning low income families are unable to start families, the neighborhood is gentrifying.
Fatboy (smoking) catches up with friends outside his family home before a dance battle event in the basement.
Pop Zombie, a lifelong friend of Poba, arrives at the dance battle.
A Bruk Up dance battle where dancers take turns performing in front of the the crowd at the Slaugherhouse. The crowd decide who wins by how loud and long they shout.
A dancer from New Jersey takes time out before his battle.
Unorthodox dance styles incorporated into very personal life stories and experiences give dancers, mostly young men, a positive avenue to express grievances, challenges and dreams.
"I was living in the ghetto, I was poor, I couldn't really relate to my family", says Poba, whose mother was addicted to crack cocaine and father was in prison from the time Poba was 3 years of age until 17 years. "Dancing saved my life. I was gang-banging and doing a lot of negative things."
Battles, mostly good natured, can sometimes get heated, especially when there is no clear winner after many dance rounds. Here two dancers are separated after no clear winner was found. The dance battle continued.
"This area's changing. If people get involved in the community, that's fine. A lotta people come and go without sayin' anything to us." Sha, Fatboy's cousin, takes time out from watching the dance battles.
Pop Zombie looking at the Slaughterhouse at the end of the night. Having grown up in the Bedstuy area since the 1990s, the area is visibly changing more now than it has in the last few decades.